THIS IS AN ONLINE BOOK.
You are welcome to contact Laura to discussed and order commissioned artworks. Some of the art on these pages is still available, but if you see something that you like, she can create an artwork that pleases you. In addition to paintings, there are also stained glass designs, painted glass, mosaics, digital art, and more.
wsglartnow@gmail.com

Hi, this is Laura Sweeney speaking from Atlanta, Georgia. I have helped design many pieces of art on this site. Pierangelo Tosi is the craftsman who makes the stained glass and Tiffany glass; whereas, I paint the ceramics. The glass comes to us from various parts of the world including France, but it is crafted into the final design in the Piedmont region of Italy. The ceramic plates are made both in China and in Italy while they are painted in the United States. Almost everything we produce is connected to literature. For example, there is Tiffany glass based upon The Flowers of Saint Francis, and Pierangelo Tosi has created a candle based upon The Showings of Julian of Norwich. Thank you for visiting our site! We hope you will return again soon!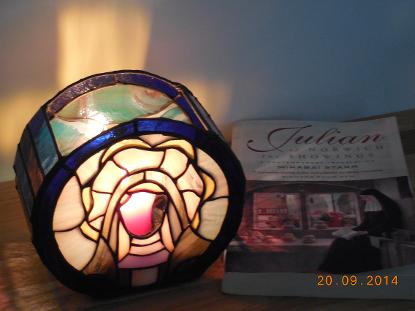 Laura Gael Sweeney speaks about GAEL Glass.