You are welcome to contact Laura to discussed and order commissioned artworks. Some of the art on these pages is still available, but if you see something that you like, she can create an artwork that pleases you. In addition to paintings, there are also stained glass designs, painted glass, mosaics, digital art, and more.
wsglartnow@gmail.com

In Honour of Pope Francis
Gentle and Loving Leader of the Catholic Church
Hand-Crafted in Italy by Master Artisan and Designer, Pierangelo Tosi
With Design Assistance by Laura Gael Sweeney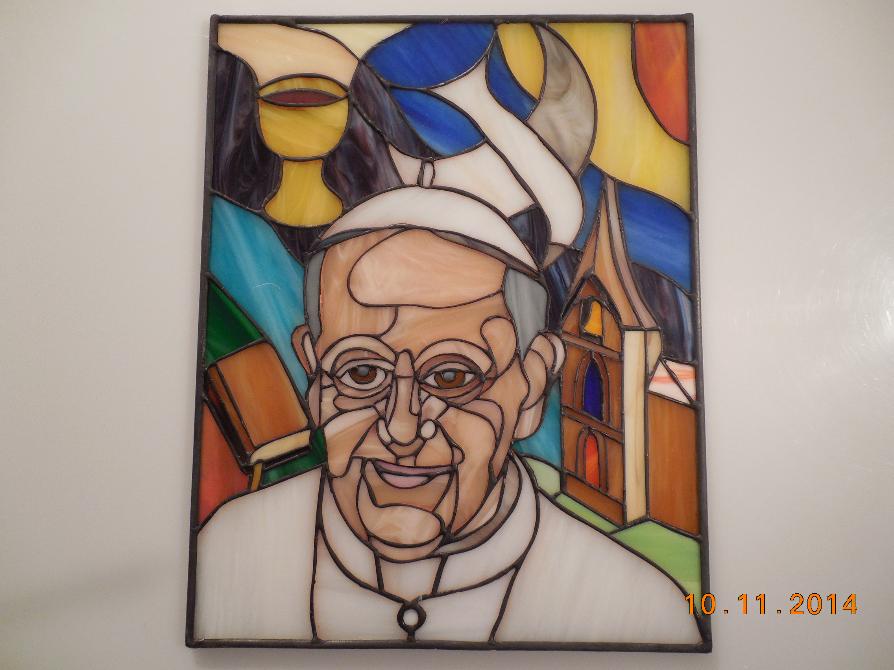 Pope Francis Stained Glass
This piece was a joint effort between Pierangelo Tosi and Laura Gael Sweeney. Sweeney drew the initial design and then it was effectively modified by Tosi who improved upon the structure of the face and added a few necessary lines in the background. Note that is is difficult to capture a portrait in Tiffany, and in most cases, the designers resort to painting the portrait. In this case, the portrait was created through the more difficult Tiffany process alone. Pierangelo Tosi did all of the stained glass himself, and he is capable of producing this piece on commission. This would be an excellent piece to donate to Catholic Churches in the name of a family member or to honour the Pope.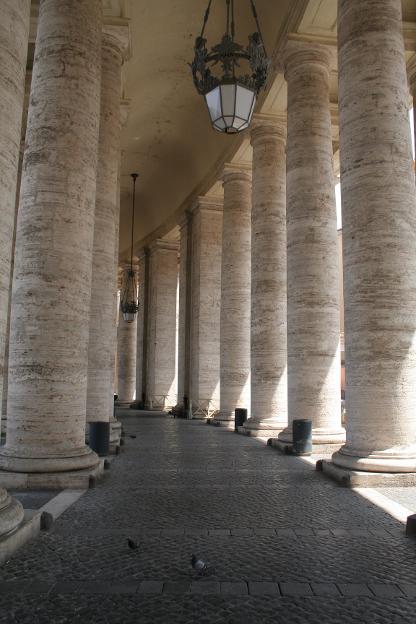 The Lord's Prayer
Our Father who art in heaven, hallowed be thy name. Thy kingdom come. Thy will be done on earth as it is in heaven. Give us this day our daily bread, and forgive us our trespasses, as we forgive those who trespass against us, and lead us not into temptation, but deliver us from evil. For thine is the kingdom, and the power, and the glory, for ever and ever. Amen.
Short Biography of Pope Francis
Pope Francis was born Jorge Mario Bergoglio in Buenos Aires, Argentina, December 17, 1936, the son of Mario Jose Bergoglio and Regina Maria Sivori. He was first ordained a Catholic priest in 1969, and by 1998, he became the Archbishop of Buenos Aires. He was made a cardinal by Pope John Paul II in 2001. Pope Francis was elected the successor of Pope Benedict XVI in 2013. Since Popes elect their own papal names, he chose Francis in honour of Saint Francis of Assisi. Pope Francis is admired by people of all faiths for his kindness and humility, for his attention to the needs of the poor, and for his desire to find connection with people of all backgrounds. He chose silver instead of gold for his ring because silver was a sign of simplicity and humility.
"Together with a culture of work, there must be a culture of leisure as gratification. To put it another way: people who work must take the time to relax, to be with their families, to enjoy themselves, read, listen to music, play a sport."
Pope Francis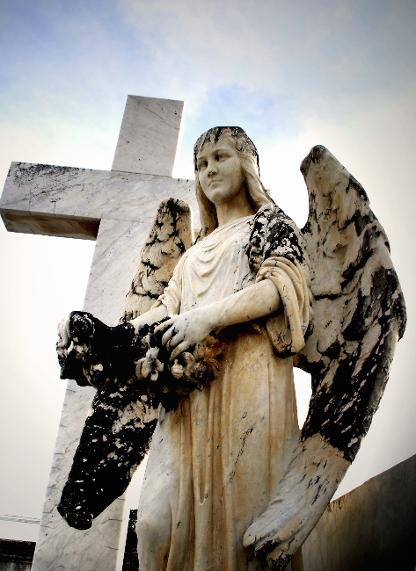 In this photo, we see the beauty of the glass as the light passes through the Tiffany design in honour of Pope Francis. Colour effects change by night and by day to delight viewers! The three principal colors of the colourwheel, red, yellow, and blue, represent the Trinity, whereas green represents the beauty of God's nature.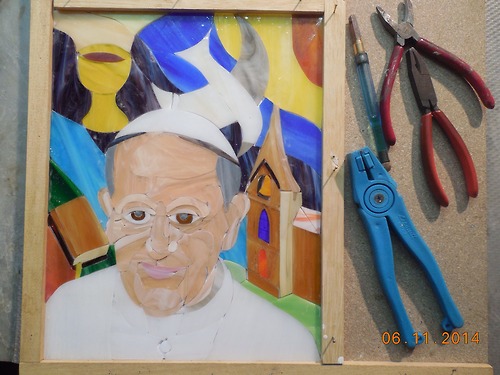 Master craftsman, Pierangelo Tosi, cut the glass and assembled it. He connected the precisely-cut Tiffany pieces. Note that he selected various dark and light values of glass in order to capture the tones of Pope Francis's face. No two stained glass windows or sun catchers will be exactly the same because no two pieces of glass are the same. If you would like to commission a stained glass window or Tiffany sun catcher, please give me a call at laura.gael.sweeney. I am principally located in the United States. Thanks! Laura Gael Sweeney
Skype: laura.gael.Sweeney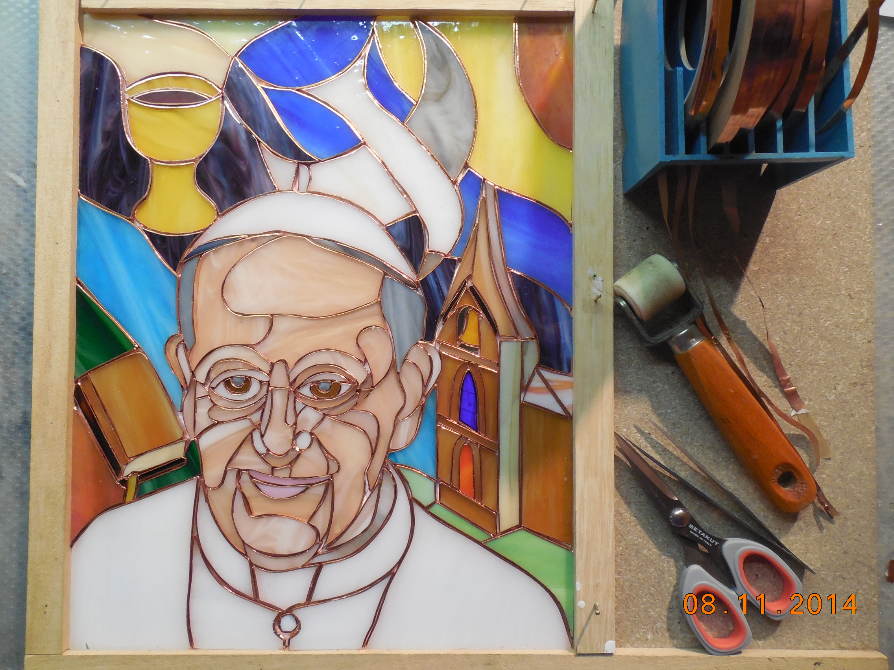 Photos of stained glass by Pierangelo Tosi
Master craftsman, Pierangelo Tosi, shares the tools that he has used to accomplish the second step in the creation of this Tiffany stained glass window. As we can see, copper has been applied around the edges of each of the pieces of glass. The glass pieces have many undulating variations of the darks and lights. Opaque glass will become translucent as the light shines through it. As this work progressed, we experienced many delightful surprises!
This step is also known as the welding step. Note the tools to the right. Pierangelo Tosi meticulously welded all the pieces with the utmost care and attention to perfection. Such craftsmanship is not easily found as it is in Tosi's art studio!
Here is the final result by Pierangelo Tosi! This stained glass piece made-in-Italy is copyrighted (2014) by Pierangelo Tosi. If you would like to order this window, Pierangelo Tosi will create you a custom design in your favorite colors.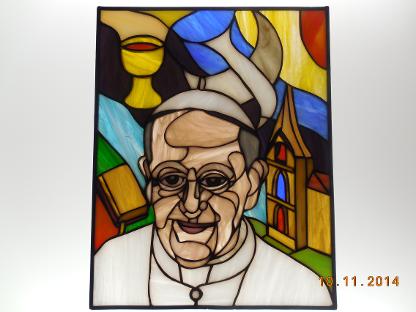 "Human rights are not only violated by terrorism, repression or assassination, but also by unfair economic structures that create huge inequalities." - Pope Francis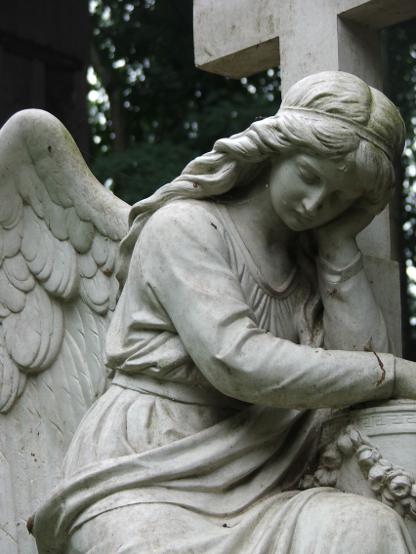 "We all have the duty to do good."

Pope Francis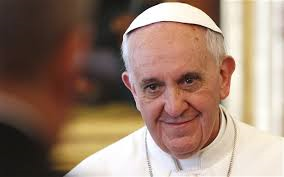 We recommend the book entitled
The Church of Mercy by Pope Francis.
We recommend this link to Catholic TV:
We recommend this link to the Mass:

Glass Art Enjoying Literature
We welcome all countries and nationalities to our site!