You are welcome to contact Laura to discussed and order commissioned artworks. Some of the art on these pages is still available, but if you see something that you like, she can create an artwork that pleases you. In addition to paintings, there are also stained glass designs, painted glass, mosaics, digital art, and more.
wsglartnow@gmail.com

Magnificent Wind Chimes by Pierangelo Tosi !
Designed in October 2015 by Pieranelo Tosi
Webpage by Laura G Sweeney
I have known Pierangelo Tosi for a while now, and I find it easy to say that he is quite a creative and imaginative man. If he sees a craft, he knows how to make it better in a unique way, especially with his natural good taste in color and shape combinations. Whereas others will struggle to create a complex design, Pierangelo cuts difficult shapes in glass before organizing them in natural, spontaneous, seemingly simple designs. He reminds me of Picasso because he knows how to take almost any idea and make it better, from technical designs to playful layouts of shapes. Very few artistic challenges are too overwhelming for such a talented craftsman and artist. He will humbly say that I am exaggerating, but I disagree. If you click on the video above, you can hear the soothing sounds of one of his bottles in the light wind. Each bottle has its own sound and several bottles together play a nice melody that reminds me of the spirituality of nature. Hearing such wind chimes in the yard or on the balcony remind me of God's presence in nature.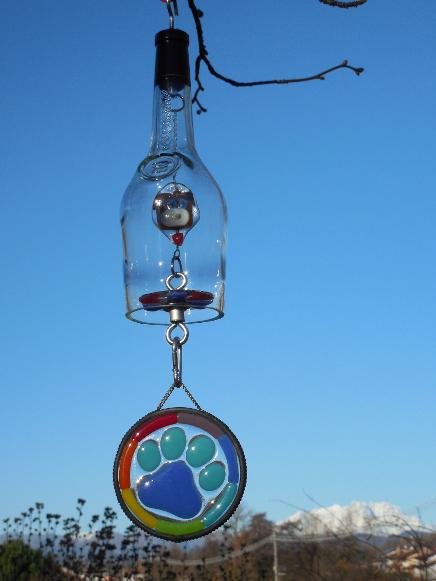 Wind chime to honor pets and animals with a PAW! December 2015 by Pierangelo Tosi.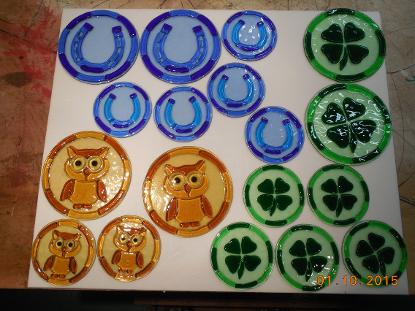 Pretty medallions such as the ones in this photo hang from the wind chimes that have been made from bottles. I admire the craftsmanship and color-artistry that went into these gorgeous works of art.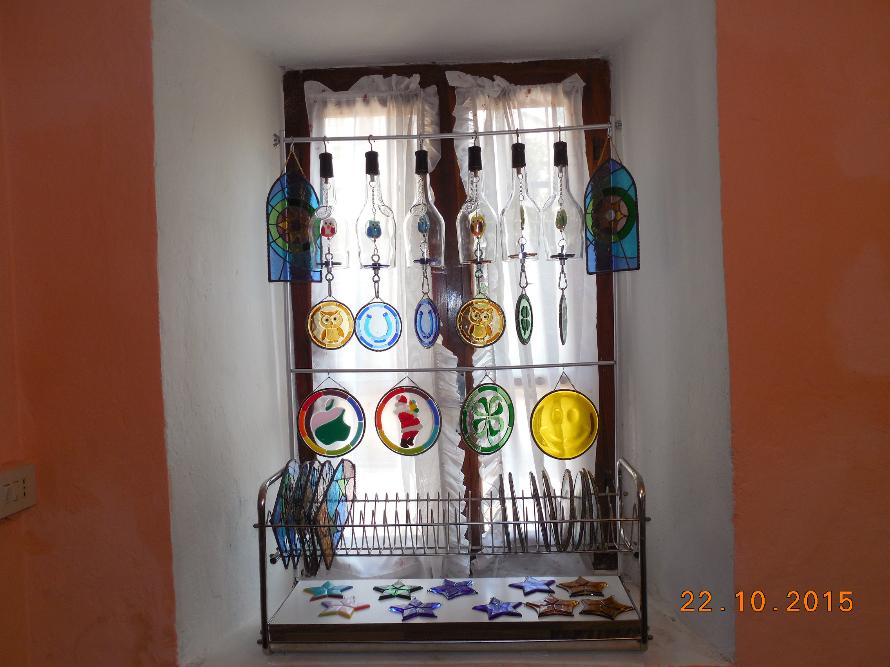 We hope you will return to our site. For more information, you may contact me at the number on the main page or at wsglartnow@gmail.com.
These amazing crafts take life in the rustic art studio where Pierangelo Tosi crafts glass in the Piemonte region of Italy. In a fantastic studio one finds thousands of pieces of glass in a wide array of colors from gold to sky blue to crimson red. He uses both antique and new glass according to which piece meets the needs of a unique opera of art. Pierangelo knows the history of stained glass windows in the Italian peninsula and he has become quite expert in the Tiffany style; yet, there is no end to his creative possibilities as he can now make fusion glass and three-dimensional sculpture. He is particularly adept at making geometric designs and cutting all the pieces to fit in ways in which the average technician would not have the patience to do.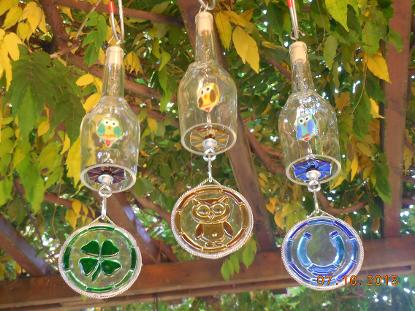 Special care was given to cut these bottles precisely. Look at how even the cork is integrated well into the design. The shape of the clapper matches and is balanced well with the medallions and the tiny glass owls! I want to congratulate Pierangelo Tosi for such delightful designs!
The You Tube image above presents 10 hours of metal wind chime enjoyment for visitors of this page and You Tube. I thought it would be nice to share these gentle sounds for the enjoyment and relaxation of this site's visitor. To find out more about this video, you can click on it several times to go to You Tube.